Smarter Marketing – Think Differently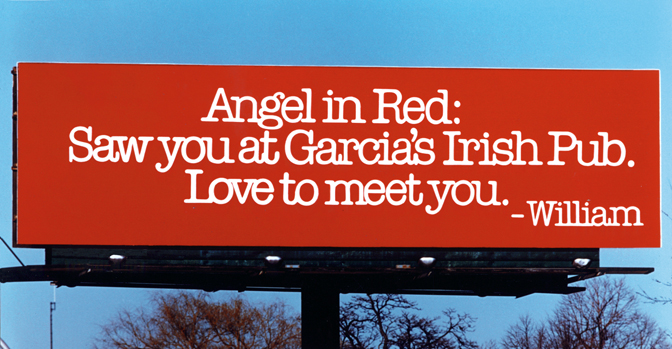 This has to be the most creative use of billboard advertising I've ever seen – really clever and very effective too – respect to Drew McLellan for picking it up for his marketing blog . It's a love story played out over several weeks on a roadside billboard to the general public and turned a bar into the talk of the town.
Marketing is all about getting noticed – for the right reasons. Doing something out of the ordinary to get your business noticed is a great strategy.
How could you do something just as innovative for your business? If you've got a board at the side of the pitch of your local sports team, just imagine how you could spice it up by changing it every week for a couple of months.
In the past month or two, several coaching clients have done some really smart marketing campaigns to increase the attention they're getting.
One client emailed out a £5 off voucher to all past customers to give as a gift to their friends. Perhaps not wildly original, but highly effective – they got hundreds back. And of course, a new customer is worth not only the value of the first sale, but the value of all the sales afterwards, if you look after them.
Another client, Couraud in London, offers a specialised 360 feedback service for developing managers and leadership. They put together a campaign to give feedback on the heads of our political parties. Nicely topical, they got a reasonable response and it was all for free. I'll be interested to see what PR they can pick up from this too.
In these days of watching the bottom line and worrying about tomorrow's sales, do something different today and make a difference to your business.