Business Coach - The Ultimate Guide
Everything you need to know about working with a business coach
A business coach is an advisor who works closely with you to help you to achieve more from your business.
Coaching provides a process to close the gap between your current performance and your full potential.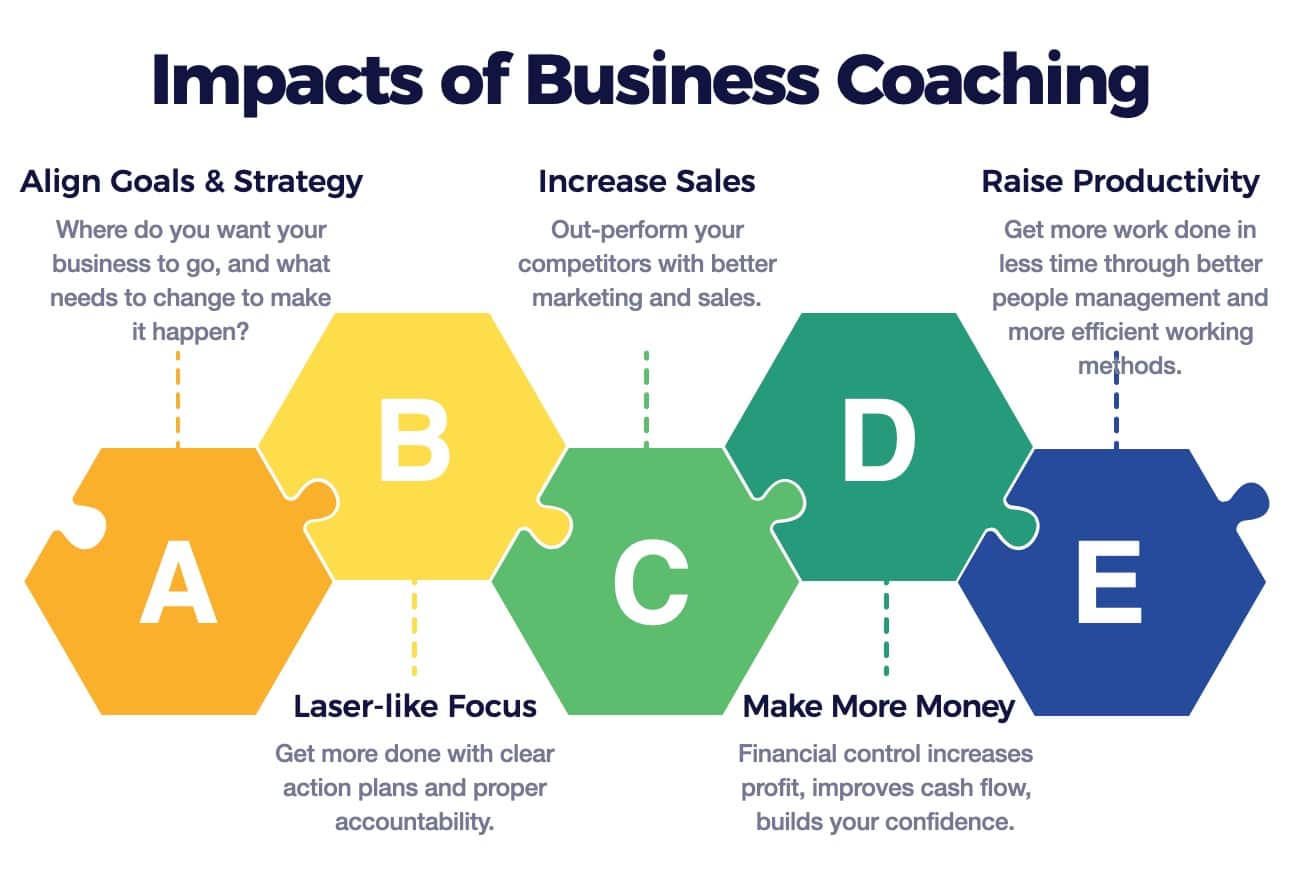 Business coaching is based on the premise that you have untapped talents and abilities, and that unlocking these capabilities will give you better results.
An effective business coach will increase your motivation and performance...
By clarifying your business goals and guiding your strategy to deliver them...
Increase your productivity with better focus, action plans and accountability for doing what you say you'll do...
Introduce and teach you new ways of thinking and working to overcome the issues that undermine your business performance and slow down growth...
How Business Coaching Makes You A More Effective Business Owner
Business is difficult. With so many different aspects to it - like marketing, sales, financial management, strategic planning, operational management, people skills, and so on, it's no wonder that only 2% of businesses manage to break through beyond the £1m level. Source: Office For National Statistics business data.
There are three levels of work in your business...
The single biggest differentiator between fast-growth businesses and their average competition is the quality of leadership.
Leadership transforms businesses. But many business owners get caught up in the idea that 'somebody has to do the work'. And yes, they do.
In just the same way that you can't do everything yourself, Sir Richard Branson can't fly all of his aeroplanes at the same time, answer the phones and deal with every customer enquiry.
In order to scale-up your business, you have to take on a different set of responsibilities. You do a different type of work in order to become a better business leader.
This doesn't come naturally to most business owners, so business coaching is an effective, proven way to help you close the gap to become a more effective leader for your business.
What Are The Benefits of Working With A Business Coach?
The goal of business coaching is to help you to win at business.
But what do we mean by winning at business?  Well, the truth of business ownership, as I'm sure you're aware, is not quite what employees think it is!
Business owners take more risks, have no HR protection, work more hours and take fewer holidays than employees.  Most also earn less than the national average salary of around £30,000.
What Are The Main Reasons You Would Hire A Business Coach?
There's a saying that people choose to work with a coach for a reason, a season or for life. Each of these reflects both the need and values of the business owner.  Taking each in turn...
Hiring a coach for a reason is typically when you want help with a specific problem or need some input on a particular single topic. It might be to launch a new product, to solve a marketing problem, or to improve sales management, for example.
Some business owners like the idea of working with a coach but aren't sure whether it's a good fit for them. They approach the business coaching relationship with a view that if it's not for them, they can drop it after a few months. Hence a coach for a season.
For entrepreneurs committed to personal growth, working with a business coach over the long-term is about continually getting the best out of themselves. They want to be stretched to develop new skills and realise the potential that will bring to the business.
What Should You Ask A Business Coach Before Investing In Their Services?
When you've decided you want to work with a coach, who should you choose? Knowing what to ask is important before investing in a person to help you grow your business.
In the diagram below you can see the 4 main areas to consider when hiring a coach. Use these to guide your choice.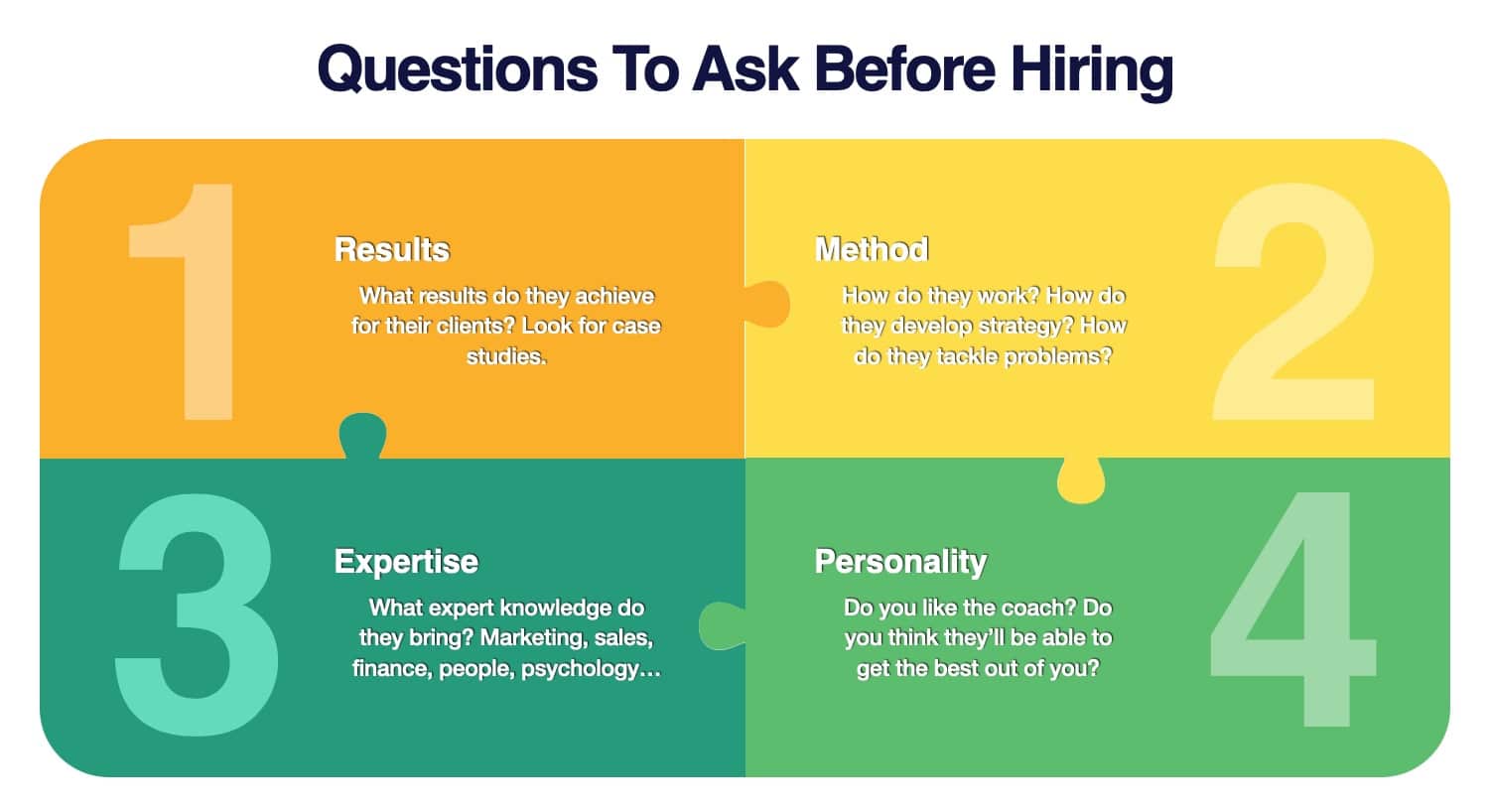 Which Approach Is Best - Business Coaching and Mentoring, Life Coaching or Business Consulting?
Each different approach has merits for different people. The people providing the services often thing the way they work is superior to other approaches, but in truth it's a case of matching the best solution to your specific needs.
What's Involved In A Business Coaching Program?
The method to follow that maximises your results from business coaching follows a well-defined process. This has been developed through working with many hundreds of business owners since 2004.
Is Business Coaching Worth Your Time and Money?
The best way to measure the impact of business coaching is by looking at the numbers. The bottom line reported by a study into the effectiveness of business coaching at a Fortune 500 firm found a return on investment of 529%. That means for every £100 spent on coaching, the business made at least £529 more profit.
But this is simplistic. The long-term benefits far outweigh even this 5x return. The changes you will make with a business coach are structural and long-term. As a result, you will get higher profitability and sustained growth over many years. Some business owners say that working with the right coach has been the best business investment they have made.
What Do Business Coaches Charge?
Allied to the return on investment, of course, is the cost of a business coaching relationship or program. While there are many different approaches to charging, most business coaching is on the basis of fixed fees.
What's surprising is that prices do not always reflect experience or ability to help your business. This means you need to pay attention to price and the quality of experience and expertise that a coach will bring to your business.
Would You Like To Talk With A Business Coach?
If you are ready to look for help to grow your business, a great place to start is to create a strategy to reach your goals. In a short, free Rapid Growth Session, we look at the gap between your business performance now and the results you really want. Then we create an outline strategy to close the gap. Click here to tell me a little about your business and to book a time in my diary.
Join 10,000+ business owners who read business books by Lee Duncan.

Download your free copy now.